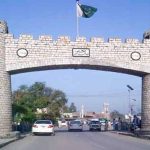 PESHAWAR: A moderate intensity earthquake of 4.6 magnitude jolted Swat and surroundings areas of Khyber Pakhtunkhwa here on Thursday.
According to Seismic Centre the epicenter of the mild earthquake which measured 4.6 on the Richter scale was located in Hindu Kush mountain range of Afghanistan and its depth 107 kilometers.
The jolts made the people flee outside homes and offices reciting Kalma-e-Tayyeba and verses of Holy Quraan.
No loss of life or property was reported.