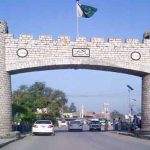 PESHAWAR: Governor Khyber Pakhtunkhwa, Eng. Iqbal Zafar Jhagra has said that modern education is the best source to bringing socio-economic change in the life of the people.
This is an age of information technology and there is a need to focus upon promoting quality research and academic activities, he added.
The governor was addressing as the chief guest at the convocation of Iqra National University in Peshawar on Tuesday.
The ceremony was also attended by a delegation of educationists and researchers from Sichuan University of the Peoples Republic of China besides the President, Vice Chancellor and faculty members of the host institution as well as the graduating students and their parents.
The head of the Chinese delegation while expressing his views on this occasion conveyed sincere aspirations for strengthening of the lasting friendship between both the friendly countries.
The governor while referring to the pace of progress in Pakistan said that although we have earned a lot of achievements after have become independent nation yet there exists every possibility for earning more successes. This region, where we stand today, he added, one may witness a lot of changes from socio-economic point of views in the life of the people.
Indeed, he remarked, there also exists every possibility to accelerate the pace of progress subject to availability of resources.
The Governor appreciated the working of the university and expressed the hope that the institution would be able in contributing its significant role in ushering development and prosperity in the life of the people.
While welcoming the Chinese delegation, the Governor said, the Pak-China friendship bears exemplary features on many counts in the world and indeed the Pak- China Economic Corridor will not only further strengthen their internal bonds of friendship but their close relationship will also cause in bringing a positive change from economic development point of views in this part of the world as well.
Governor also congratulated the graduating students and said that we all wishing them to proving a better generation of the country.
Beyond doubt, he said, we have pinned a lot of expectations from those amongst them who had earned distinctions in their respective disciplines. He also urged the need to maintaining the level of their successes and to continue their efforts for adding more achievements in the list of their success stories.
Earlier, the Governor awarded bachelor, master and doctorate degrees to 162 graduating students of the university. Meanwhile, the vice chancellor of the university while presenting annual report of the university highlighted its various successes.