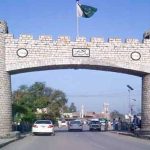 SRINAGAR: President Jammu & Kashmir Peoples Democratic Party Mehbooba Mufti on Tuesday revealed that Indian Prime Minister Narendra Modi is planning to attack Pakistan again.
"Modi wants to carry out another Balakot like attack inside Pakistan", Mufti said while giving an interview to the Indian media in Srinagar, occupied Kashmir (IoK).
She said Modi after seeing defeat in the first phase of the general elections in India, is trying to carry out another adventure against Pakistan to attract the voters.
Mehbooba Mufti terming the plotting as an act to gain sympathies of the voters added that the Indian PM want to gain majority in Lok Sabha.
Last week, Foreign Minister Shah Mehmood Qureshi has also disclosed that India is once again planning military action against Pakistan.
"Pakistan has reliable intelligence that India is hatching a new plot and may resort to military aggression against Pakistan between April 16-20," the foreign minister had said while speaking at an important press conference here.
"An incident similar to Pulwama could recur in the occupied Kashmir valley," he said, adding the purpose of this sinister plan is to build diplomatic pressure on Pakistan and justify Indian military action.