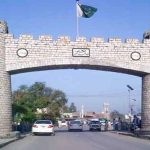 DUBAI: Pakistani professional boxer, Mohammad Waseem defeated his Filipino counterpart, Conrado Tenamor in the first round to claim the triumph at 2019 Ranking Fight in Dubai.
Pakistani pugilist, Mohammad Waseem tried to bounce back from his first career loss when he faced Philippines' Conrado Tanamor (11-3, 4 KOs) in their flyweight bout in a Ranking Fight which was a part of the Rotunda Rumble event being promoted by Ahmed A. Seddiqi's Round 10 Boxing in association with MTK Global at the Caesars Palace in Dubai.
Waseem, 32, who last year floored IBF flyweight champion, Moruti Mthalane in a world title fight but ended up losing by unanimous decision, was in action for the first time in 2019 with redemption on his mind as he won it in the first round with his quick and swift style of boxing, Waseem knocked down Conrado Tanamor within 82 seconds of the first round.
Soon after his win, Waseem, while talking to the media, said that he dedicated his win to Kashmiri brethren. The boxer says that he hopes to maintain the series of victories and wants to make his country proud in the world.
Mohammad 'The Falcon' Waseem had been training in Scotland for the last six to seven months. And it finally paid off. Not only Pakistanis but the world hails for him. With this, he has won 9th professional bout of his career.
This is not the first impressive fight that Falcon has won against a Filipino boxer. One of his victories happened back in 2016 in the WBC Boxing, where he won the Silver-Flyweight title and made Pakistan proud. While Mohammad Waseem's overall professional career record now stands as 9-1, 7 KOs.