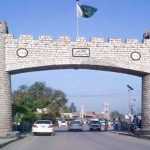 GHALANAI: Tribal elders of Qandari clan of Mohmand Agency on Thursday assured support to the government and political administration in maintaining writ of the government, peace and order in the area.
In a Jirga held here with political administration at Ghalanai Headquarter, they said the tribal militia would take action against those who would be found guilty of unrest in the area, adding the government should also have to ensure conducive law and order situation so that the displace persons could return home.
A tribal elder per each 50 houses would be appointed who would be approver of his villagers to ensure peace in the area.
The tribal elders said they would protect their own villages and areas against any criminal or anti state activities and would take action in collaboration with political administration and security forces.
They told that villages on border areas are free from anti state elements, however disputes among the local clans sometimes create untoward situation, suggesting that political administration should have to take action them.
The elder said peace and order is established in villages on border areas and whole all the tribes are united to see prosperity and development in their respective areas. They said that hundreds of families Mohmand tribes are still residing in Punjab and Peshawar as their houses have been destroyed and poor people cannot afford to rebuild the structure.
Speaking on the occasion, Assistant Political Agency Habibur Rehman Khalil warned the Jirga members that if peace was not established in Qandari tribe areas then the government would launch operation in the area. He said the political administration would take every possible step to facilitate displace families in resettlement however the tribal elders would have to take responsibility to ensure peace in their areas.