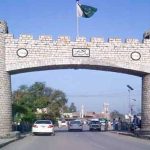 KARACHI: Former President and Co-chairman of Pakistan People's Party (PPP) Asif Ali Zardari and his sister Faryal Talpur on Tuesday marked their attendance in banking court in a case pertaining to siphoning off money through fake bank accounts.
As the hearing went underway, prosecutor of Federal Investigation Agency (FIA) opposed proceedings on the request of accused persons saying that Supreme Court (SC) has barred courts from giving verdict on bank accounts of Omni Group.
However, lawyer of Omni Group's chairman Anwar Majeed argued that the apex court has barred courts from verdict and not proceedings.
Hearing arguments of the concerned parties, the court remarked that it would read the SC's orders before announcing any verdict and adjourned the case until October 16.
Let it be known that protective bails of Asif Ali Zardari, Faryal Talpur, Omni Group's chairman Anwar Majeed and other accused ends today.