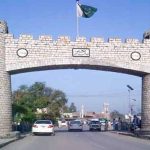 ISLAMABAD: Former president Asif Ali Zardari and his sister, Faryal Talpur, on Monday appeared before the Federal Investigation Agency (FIA) and recorder their statements in a money laundering case.
FIA Additional DG Najaf Mirza, who chaired a meeting at the agency's Islamabad office earlier today, probed Asif Zardari and Faryal Talpur.
The former president and his sister were questioned for around 35 minutes.
Speaking to the media after his questioning, Zardari said, "Unfortunately the money laundering case was formed against him during former prime minister Nawaz Sharif's tenure."
The FIA issued notices on Saturday to the former president and his sister to appear at the agency's headquarters in Islamabad.
This is the fourth time the agency summoned the former president and his sister in connection to a multi-billion money laundering scam.
Zardari's counsel Farooq Naik earlier denied that FIA's case includes money laundering charges.
The FIA has to submit a report in the Supreme Court regarding the ongoing probe on Tuesday.