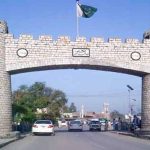 ISLAMABAD: Manager Printing Press Corporation (PPC) Fazl-ur-Rehman Tuesday informed the judicial commission that more than 4.1 million ballot papers for 2013 general elections were printed without serial numbers.
The commission, headed by Chief Justice Nasir-ul-Mulk, is investigating claims of systematic rigging in 2013 general elections.
In his statement before the judicial panel, Fazl-ur-Rehman said 4,191,800 ballot papers were printed without serial numbers.
Chief Justice of Pakistan Justice Nasirul Mulk remarked that those leveling allegations will have to submit evidence as well.
He said it cannot be presumed that Returning Officers were involved in the alleged rigging merely on the basis of allegations.
The commission would meet again tomorrow afternoon.
Witnesses of the Election Commission would be cross-examined tomorrow and the day after while witnesses of PML (Q) would be cross-examined on Friday.