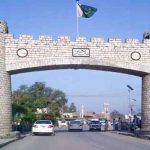 HARIPUR: Mother and her three daughters were brutally killed inside their house by unknown persons in Khanpur area of Haripur.
According to details, police on Sunday found the dead bodies of a mother and her three daughters tied to chairs inside their home in Qutba area of District Haripur. Police said the bodies were found with juice boxes lying around them. It is being speculated that unidentified men entered the house, tied the woman and children and forced them to drink poisonous juice, police said.
The mother was identified as Sadaf, married to a man named Shafaaqat Zaman. Sadaf was the first wife of Zaman, police said, adding that Zaman had two wives.
Khanpur police have registered cases of robbery and mugging against Zaman in which he is currently absconding.
The bodies have been sent to Tehsil Headquarters Hospital for medico-legal formalities as further investigation is underway.