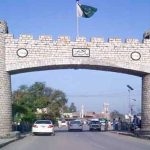 TANK: Likewise other parts of the country, Tank and South Waziristan Agency (SWA) also witnessed an enthralling program arranged in connection with Pakistan Day.
A large number of people mostly youth organized a motorcycle rally from Tank to South Waziristan Agency (SWA) under the leadership of Sherpao Mahsood Advocate.
Participants of the rally – going through Sararogha, Makeen and Ladha – were holding national flags.
They assured that the tribal people would always stand shoulder to shoulder with Pakistan Army and pledged that they would play their role for the establishment of law and order in the country.
The rally was warmly welcomed by the tribal people at places it went through.