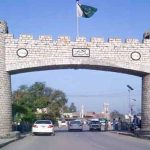 KARACHI: Muttahida Qaumi Movement (MQM) has announced to stage protest across Sindh from Tuesday (today) against the statement of Defence Minister Khawaja Asif against Muhajirs.
Speaking to a press conference, MQM leader Dr. Farooq Sattar, said that Khawaja Asif has tried to divide the Muhajirs in Pakistan. He used inappropriate language against Muhajirs.
"The party will stage protests in Sindh which will continue till he (Asif) issues an apology over his statement", Sattar said.
Khawaja Asif had stated that 'real Muhajirs' are the ones who had migrated to the country from Indian regions of Jalandhar and Ludhiana.
"By judging Asif's statement, we can determine Pakistan Muslim League – Nawaz's (PML-N) style of governance", he added.