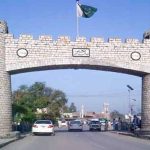 ISLAMABAD: The Muttahida Qaumi Movement (MQM) has written a letter to Indian High Commission, appealing New Delhi to raise voice for the party's missing workers, read a copy of the letter.
According to the letter, MQM states that Pakistan's sensitive agencies detained 12 of its workers on July 29 when they were travelling to Hyderabad from Karachi.
It further said that eight of the 12 workers were later released; however, the remaining four are still in custody, claiming that they fear for their lives, and that their families are worried about them.
In the letter to Indian High Commissioner TCA Raghavan, MQM appeals Indian High Commission to raise voice for recovery of the detained/missing workers, describing their arrest as 'violation' of human rights and constitution of Pakistan.
The letter bears signatures of Arif Khan, Abdul Qadir Khanzada and Shabbir Qaimkhani.
According to the letter, the 'missing' workers are Waleed Kamal, Shayan Rehman, Saad Hashmi, and Asad Raza.