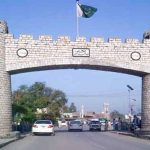 KARACHI: Muttahida Qaumi Movement-Pakistan's (MQM-P) potential forward block comprising of estrange party leaders on Monday suggested party chief Khalid Maqbool Siddiqui to pull out of alliance with the government.
Addressing a press conference in Karachi along with Kamran Tessori, former MQM coordination committee member Shahid Pasha said that the masses were angry with the party due to immorality, adding that an anti-corruption unit in the party is the need of the hour.
Tessori said that they were ready to meet MQM chief Khalid Maqbool Siddiqui and Rabita Committee on the condition of pulling out of alliance with the government.
People were furious with the MQM over its involvement in incidents of extortion and target killing, Shahid Pasha said.
Pasha went on to say that instead of holding intra-party elections, the basic membership of party leaders should be revoked.
The estrange party leader also claimed that a conspiracy has been hatched against Prime Minister Imran Khan and he only has eight months.