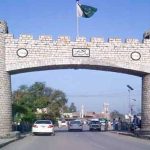 LONDON: Muttahida Qaumi Movement (MQM) founder Altaf Hussain has been charged with a terrorism offence in the United Kingdom.
A statement by the Metropolitan Police said a 66-year-old man was charged with a terrorism offence in connection with a speech delivered in 2016.
"Detectives from the Met's Counter Terrorism Command have today, 10 October, charged a 66-year-old man with a terrorism offence in connection with a speech made in August 2016," read the statement.
"Altaf Hussain (17.09.1953), of Abbey View, Mill Hill, NW7, was charged under section 1(2) of the Terrorism Act (TACT) 2006 with encouraging terrorism, namely:
"On 22 August 2016 published a speech to crowds gathered in Karachi, Pakistan which were likely to be understood by some or all of the members of the public to whom they were published as a direct or indirect encouragement to them to the commission, preparation or instigation of acts of terrorism and at the time he published them, intended them to be so encouraged, or was reckless as to whether they would be so encouraged.
"Hussain will appear in custody at Westminster Magistrates' Court on 10 October."
"Hussain was previously arrested on 11 June on suspicion of intentionally encouraging or assisting offences contrary to Section 44 of the Serious Crime Act 2007. He was released on bail and subsequently charged as above," the statement concluded.
The development comes after Hussain appeared at the Metropolitan Police Southwark Police Station in London on Thursday.
This was his third appearance at the police station and came following the expiration of his bail in an investigation into his alleged hate speech to followers in Pakistan.
Hussain was arrested in June on the suspicions of intentionally encouraging or assisting offences of Britain's Serious Crime Act, 2007.
The inquiry was focused on a speech broadcast in August 2016 by an individual associated with the MQM movement in Pakistan as well as other speeches previously broadcast by the same person, said the London Metropolitan Police in a statement released after the June arrest.
"He was arrested on suspicion of intentionally encouraging or assisting offences contrary to Section 44 of the Serious Crime Act 2007. As part of the investigation, officers are carrying out a search at the northwest London address," the Met statement continued.
After a day in prison, the British authorities released Hussain on bail without filing charges.
In September, the police grilled Hussain for five hours in connection with the same case after which he was granted extension in bail and released.
The MQM founder had delivered a fiery speech via telephone to a party gathering outside the Karachi Press Club (KPC) on August 22, 2016, after which party workers chanted anti-Pakistan slogans and then vandalised a media office nearby.
In the days that followed, the Karachi wing of the party led by Farooq Sattar distanced itself from Hussain and the London wing.
The interior minister at the time contacted the British authorities and asked them to take action against Hussain for "inciting people of Pakistan to violence".
In 2017, Scotland Yard sent a letter under 'Mutual Legal Assistance' to Pakistan in relation to two speeches made by the MQM founder on March 11, 2015 and August 22, 2016.
Hussain, 66, lives in self-exile in London for more than two decades. He requested asylum in the 1990s and later gained UK citizenship. The Pakistani authorities have repeatedly demanded action be taken against him for inciting people in Pakistan.