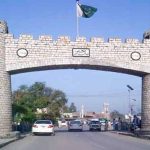 KARACHI: In response to MQM London's demand, the parliamentary party of Muttahida Qaumi Movement (MQM) in Karachi has clarified that MPAs belonging to the party will not resign from their seats.
Leader of the opposition in the Sindh Assembly Khawaja Izhar-ul-Hassan chaired the parliamentary party meeting today (Friday).
The participants have expressed full confidence over Dr Farooq Sattar's leadership and decisions made by MQM Pakistan.
The meeting takes place two days after MQM London responded quite aggressively to the resolution passed against its chief in the Sindh Assembly and demanded resignations from the party lawmakers.
In a meeting on Wednesday, MQM Pakistan members under the leadership of Farooq Sattar decided to revoke the membership of senior party leaders present in London.
Deputy Convener MQM London Nadeem Nusrat and workers Wasay Jalil, Mustafa Azizabadi and Qasim Ali Raza were removed from the Coordination Committee.
The meeting also decided that any member who would go against the policy guidelines, approved on August 23 this year, will be sacked from the Coordination Committee.