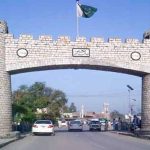 KARACHI: Muttahida Qaumi Movement (MQM) lawmaker Heer Soho in Sindh Assembly session on Friday criticized a resolution tabled by PTI's Khurram Sher Zaman seeking change of the name of the two universities named after the founder of the MQM.
Heer Soho criticized the resolution of the PTI's lawmaker calling it 'childish'. She advised Khurram Sher Zaman to be a sensible leader and warned " we can also bring matters of KPK in this house."
The PTI member said he respects the honorable member but fears only God. He said he will not deviate from his stance as his stance is based on principles. Why any objection when the party has also left its founder, he added.
PML-F member Nusrat Sahar Abbasi said she supports the resolution submitted by Sher Zaman.
Pakistan Tehreek-i-Insaf lawmaker Khurram Sher Zaman had submitted a resolution in the Sindh Assembly on Wednesday demanding to rename the universities in Hyderabad and Karachi after prominent humanitarian late Abdus Sattar Edhi.
It is pertinent to mention here that the Sindh Assembly had passed bills in December 2014, according to which two universities were to be built in Karachi and Hyderabad after the name of MQM founder Altaf Hussain.