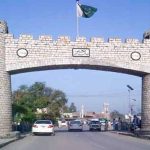 ISLAMABAD: Muttahida Qaumi Movement-Pakistan (MQM-P), the disgruntled allies of PTI's government, has announced to rejoin federal cabinet.
Khalid Maqbool Siddiqui said that MQM-P and Pakistan Tehreek-e-Insaf (PTI) are coalition partners and his party is part of the government.
He said that they were satisfied with the progress in all the demands.
Siddiqui said that the alliance of MQM-P and PTI will be remembered for a memorable time for urban areas.
Earlier, MQM-P Convener Khalid Maqbool Siddiqui had announced to leave the federal cabinet. He said he was resigning from his post as minister for information technology. "We had supported [PTI] in forming the government. We are not taking back our cooperation," he added.
"We had promised the government that we would help in forming the government and we have fulfilled the promise. None of our promises were fulfilled," Khalid Maqbool maintained. "It is becoming increasingly difficult for me to remain a part of the federal cabinet. My sitting in Cabinet has been raising questions," he added.