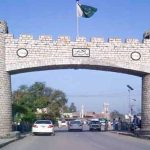 KARACHI: The PIB and Bahadurabad factions of the Muttahida Qaumi Movement-Pakistan (MQM-P), are set to hold a joint power show at Liaquatabab's Tanki Ground today as all arrangements have been finalized for unity show.
The top leaders of two factions including Farooq Sattar, Amir Khan and Khalid Maqbool Siddiqui visited Tanky Ground to review preparations for the public meeting.
Talking to newsmen during his visit to venue Amir Khan said that MQM was still a political force in Karachi and there were no differences in the party.
Responding to a question related to who will address the rally at the end, Amir Khan said it was possible that he would speak to the participants at the end.
He said that the people of Liaquatabad would warn PPP to not hold any rally in this ground in future.
Similarly, Farooq Sattar also visited the rally venue and said that they were gathering at Liaquatabad for a larger purpose. He said that the federal and provincial governments have failed to solve the loadshedding and water problems of the city.
He also announced that the MQM-P would hold protest demonstration in front of the K-Electric office. He said that today rally was also a protest against loadshedding and water shortage in the city.