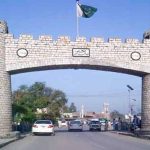 KARACHI: Muttahida Qaumi Movement-Pakistan (MQM-P) has announced to hold a public gathering and give a befitting response to Pakistan People's Party (PPP) chairman Bilawal Bhutto Zardari for his rally in Liaquatabad.
Talking to media on Tuesday, MQM-P leader Khalid Maqbool said his party would give a powerful reply to Bilawal Bhutto Zardari's for "his anti-MQM" speech.
PPP has only given the people bullets, coffins and a graveyard instead of giving them what it truly promised that is food, clothes and land, said Siddiqui.
He alleged that Lyari gang war belonged to PPP's military wing.
MQM-P leader Farooq Sattar has also announced to set aside personal differences with Khalid Maqbool Siddiqui's group and join him in the power show.