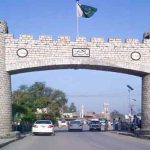 KARACHI: Muttahida Qaumi Movement Pakistan (MQM-P) Rabita Committee on Thursday announced to submit the nomination papers for senate elections despite conflict with the party leader Dr. Farooq Sattar.
MQM-P leader Faisal Sabazwari said in a press conference at Bhadurabad office, that Shabbir Qaim Khani, Amir Chishti, Nasreen Jalil, Kishwer Zehra, Barrister Dr. Mohammad Farogh Naseem, Syed Aminul Haque, Sanjay Perwani and Abdul Kadir Khanzada would submit their nomination papers for senate elections today at 8 AM (PST).
Faisal Sabazwari said that according to the party constitution, the Rabia Committee could make decisions with a simple majority. The Convener or Deputy Convener have no discretionary powers in the constitution. We presented four names on merit in which there was no error.