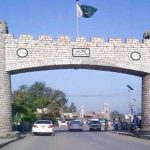 KARACHI: The Muttahida Qaumi Movement (MQM) has relieved Qamar Mansoor of all his duties as a party member.
In a statement on MQM website announced to relieve Mansoor of all his duties as a party member.
The statement said that the decision has been taken in a joint session of party's London and Karachi Rabita Committee after reservations expressed by Mansoor before the committee after his release.
The RC ordered all party workers not to contact Mansoor regarding party matters.
The party however welcomed Mansoor and his family to MQM headquarters Nine Zero if they need Rabita Committee's help.
Earlier today Rangers released Qamar Mansoor after 49 days from what was to be a 90-day preventive detention.
The Rangers released Mansoor on "humanitarian grounds" as the initial investigation concerning him had concluded, a Rangers law officer said.
Officials at Anti-Terrorism Court-II (ATC-II) confirmed the receipt of an intimation report from the Rangers informing the court of his release from their custody.
Although Mansoor has been released, the law official said the MQM leader had not been cleared of the charges against him.