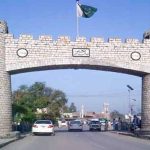 SUKKUR: Opposition leader in the National Assembly, Syed Khursheed Shah on Tuesday slammed Muttahida Qaumi Movement (MQM) for "not doing anything" for the people.
Speaking to media in Sukkur, the PPP leader questioned what the MQM had done so far. "Ask them, what did they do? All the MQM did in 33 years was target-killing."
MQM couldn't even build a university, Shah said.
On the occasion of Labour Day, the PPP leader lamented the state of affairs in the country regarding labourers' rights.
"[They] don't have money to increase labourers' wages by Rs2,000 but they have [plenty of] money for corruption," Shah criticised. "Some [of them] summon the labourers' to Bani Gala, others call them to the Lahore [throne]."
The PPP itself goes to the labourers. The labourers will have to unite for their rights, he added.