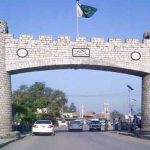 KARACHI: The Rangers Sindh has accused the Tanzeemi Committee of Muttahida Quami Movement (MQM) of organizing the militant wing of the party.
A spokesman for the Rangers said in a statement that due to MQM's committee support to militants, the party's sector and unit in-charges are being arrested.
The rangers spokesman claimed that some of the MQM people are themselves surrendering to the paramilitary force.
The Rangers said all these people are being given unrestricted legal rights. Also, all the apprehended people are produced before court at the earliest, the spokesman said.
The Karachi operation is directed against the criminal elements, the rangers spokesman said.
Meanwhile, taking strong exception to the statement of Rangers spokesman, Coordination Committee of Muttahida Quami Movement (MQM) demanded of the chief justice of Pakistan (CJP) to take immediate notice of this statement.
In a statement issued in Sunday's wee hours by the party's main decision-making body, the MQM pointed out that the statement by the paramilitary force is an open admission that Karachi operation is afoot exclusively against the MQM.
People are being arrested not because they committed any offence; instead, they are being copped as they are MQM's office-bearers, the MQM said adding the paratroopers are capturing the MQM's office-bearers under an organized plan.
MQM raised question if it is a criminal offence to be the MQM's sector or unit in-charge; hence, there is little doubt left in the fact that Karachi operation is being waged to exterminate the party.
Snubbing the Rangers claim regarding the appearance of political workers before courts, the MQM denied the rangers assertion saying over 50 workers of the MQM are still unaccounted for even after the lapse of several months.
The Coordination Committee said Tanzeemi Committee mentioned by the rangers has no existence at all as the body has long been dissolved.
The MQM's body asserted that MQM's political and welfare activities have been practically banned, adding the rangers have turned the entire megacity into an occupied territory.