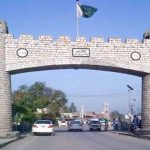 ISLMABAD:  A local court in Islamabad Wednesday handed over former interior minister Sheikh Rashid to Murree police on a one-day transitory remand in threatening police personnel case.
The court directed the police officials to present  the accused before a court in Murree on Thursday by 2pm.
Rashid alleged that a false case was registered against him by the government to force him to change his political allegiance. However, he added, he would never change his political allegiance. He claimed that he had handed over the passwords of his mobile phones to the police, while, Murree police have interrogated him for hours.
The police requested the court for transitory remand of Sheikh Rashid Ahmad. However, the counsel for Sheik Rashid, Ali Bukhari opposed the police request, saying that the judicial magistrate has already rejected the Murree police's transitory remand.
Meanwhile, the prosecutor told the court that Rashid wass on a judicial remand and has to be produced before the Murree court. He pleaded for approval of the Murree police's request for the transitory remand.
The court handed over Sheikh Rashid Ahmad to Murree police for one-day transitory remand and directed the police present him in the Murree court on Thursday.