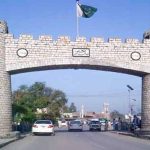 LAHORE: Pakistan Muslim League-Quaid (PML-Q) chairman Chaudhry Shujaat Hussain on Friday has said that the verdict of special court to hang former president and top military official Pervez Musharraf has downed the morale of Pakistan Army.
In a statement with respect to the treason case decision, the PML-Q leader said that the judgment has affected Pakistan's image across the world.
The reaction case after special court in Islamabad had sentenced former president and top military official Pervez Musharraf to death in high treason case.
A three-member bench comprising Chief Justice of Peshawar High Court (PHC) Waqar Seth, Justice Nazar Akbar of Sindh High Court (SHC) and Justice Shahid Karim of Lahore High Court (LHC) has announced the verdict that was reserved on December 5.
During the hearing, Justice Seth said that ex-president has been found guilty of violating the Article 6 of the Constitution by clamping the state of emergency on November 3, 2007.
According to the High Treason (Punishment) Act, 1973, "any person who abrogates or subverts or suspends or hold in abeyance, or attempts or conspires to abrogate or subvert or suspend or hold in abeyance the Constitution by use of force or show force or by any other unconstitutional means shall be guilty of high treason." The sentence for high treason is death or lifetime imprisonment.