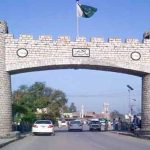 LAHORE: The Supreme Court on Thursday suspended its interim verdict which has allowed former president General (Retd) Pervez Musharraf to submit his nomination papers for General Elections 2018.
During the hearing of the case in Supreme Court Lahore registry, All Pakistan Muslim League (APML) Secretary General Dr Amjad and lawyer Moazzam Butt appeared before the court.
The apex court asked lawyer of Musharraf if his client was coming and briefly adjourned hearing after summoning the former president at 2pm.
When hearing of the case resumed, Musharraf's lawyer maintained that his client intends to return to Pakistan but is unable to do so due to the present circumstances and some health issues.
Upon this, the top court suspended its interim decision allowing Musharraf to submit nomination papers for the upcoming general elections.
Previously, Dr Amjad reported that the return of Musharraf is facing a delay as his passport had not been restored adding that Musharraf would now seek another date for appearance in the Supreme Court.