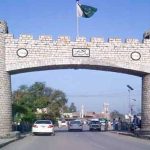 ISLAMABAD: Former president and military dictator General (retired) Pervez Musharraf has requested the federal government for provision of tight security on his return to Pakistan from self-exile in United Arab Emirates (UAE), local media reported on Friday.
As per media reports, Musharraf has sent an application to the federal interior ministry for provision of foolproof security on his return. Reports added that authorities at the Interior Ministry had also reviewed the application and consulted over it.
Earlier today, the Special Court hearing the treason case against former president General (retd) Pervez Musharraf has ordered the federal government to put special measures in place to bring the ex-military ruler back from the United Arab Emirates.
The three-member special court issued a written order during hearing of the high treason case here on Friday.
Peshawar High Court Chief Justice Yahya Afridi is heading the bench which includes Lahore High Court Chief Justice Yawar Ali and Balochistan High Court Justice Tahira Safdar.
The special court ordered that the interior ministry should take action for the arrest of the former military ruler through the Interpol.
The court also ruled that the federal government should take measures for the confiscation of assets of Musharraf.
The former president's advocate in his arguments said that an application was sent to the interior ministry for the security of Musharraf.
The bench, formed in 2013, is hearing the case of imposition of extra-constitutional emergency by Musharraf in November 2007.
Earlier Arab News citing an APML leader, reported Gen. (retd) Pervez Musharraf may return to Pakistan before March 21 to appear before a special court hearing the treason case against him.
Dr. Mohammed Amjad, president of Musharraf's All Pakistan Muslim League (APML) party, told Arab News on Friday that Musharraf's return depends on whether they get government assurance of his security and there are no restrictions on foreign travel. "Everybody knows that in Pakistan Musharraf faces a lot of security threats, from religious fanatics to militants, so we don't want to compromise on his security," Amjad added, but declined to elaborate on security threats from any specific outfit.
"All the cases against Musharraf are fabricated and politically motivated," he said. "Musharraf has no hesitation in appearing before the courts, and we hope to get justice in all the cases."
On prosecution lawyer Akram Shaikh's request, a three-member bench of the special court headed by Justice Yahya Afridi on Thursday directed the government to initiate necessary measures to arrest and extradite Musharraf.
It also directed the government to confiscate all properties of the former president for not appearing before the court.
When Musharraf's counsel Akhtar Shah raised the issue of his client's security in Pakistan, Ministry of Interior officials assured the court on Thursday that Musharraf will be accorded foolproof security in the country.
Next hearing of the treason case against Musharraf is on March 21.
In March 2014, the former army chief was indicted in the case of imposition of extra-constitutional emergency in November 2007, though he had rejected the charges against him.
Musharraf went to Dubai in March 2014 for medical treatment after the federal government allowed him to travel abroad. A few months later, he was declared him an absconder by a court for failing to appear at a hearing.
The Ministry of Interior is now considering preparing a strong charge-sheet against Musharraf, before formally requesting Interpol for red warrant of the former president.
A Ministry of Interior official told Arab News: "We are consulting legal experts to implement the court orders for arrest and extradition of Pervez Musharraf."
"We don't want to get embarrassed, so we are trying to prepare a comprehensive charge-sheet against him for Interpol. The whole process can take two to three more days," he added.
In August 2012, Interpol rejected Pakistan's request to issue a red warrant against Musharraf in Benazir Bhutto assassination case citing insufficient evidence and documentation.
The Ministry of Interior has to prepare a case, then forward it to the Interpol section of Federal Investigation Agency (FIA). The FIA's Interpol section then sends the information on to Interpol requesting the issuance of the red warrant.
"We have not received any written application so far for arrest warrants for Musharraf," Shahid, a director at the FIA's Interpol department, told Arab News.
Tahir Malik, a political analyst, told Arab News that Musharraf is using his personal security as a pretext not to return to Pakistan. "Being an ex-army chief and former president, he will automatically get foolproof security in Pakistan not only by the civilian government but also by his own institution," he said.
Malik said that the APML has little chance of winning a seat in the upcoming general elections. "Musharraf has a kind of fan following in Pakistan, but this cannot help him win even a single seat in the elections," he said.