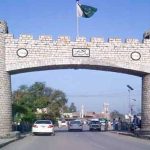 ISLAMABAD: The Supreme Court (SC) heard high treason case against former president Gen (retd) Pervez Musharraf on Monday (today).
Pervez Musharraf's counsel took the stance that the former president himself wants to record statement after coming back and appearing before the court.
Chief Justice of Pakistan Justice Asif Saeed Khosa inquired that what will happen if Pervez Musharraf does not come back despite assurance.
The chief justice pronounced that the apex court cannot let the accused take advantage after skipping the hearings on purpose. Action should be taken against the suspect if he does not keep his promise, the CJP said.