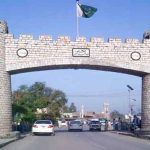 ISLAMABAD: Speaker Khyber Pakhtunkhwa Assembly Mushtaq Ghani has submitted contempt of court petition against governor Haji Ghulam over his failure to announced election date.
Mushtaq Ghani petition for contempt of court against Governor Ghulam Ali in the Supreme Court. The petition for contempt of court against the governor has been filed through Advocate Shamael Butt.
The petitioner had made Governor Ghulam Ali and the Election Commission parties to the case. The petition claims that while the Supreme Court had ordered Governor's Khyber Pakhtunkhwa to announce a date for the elections in the province. However, the governor did not comply even after receiving multiple reminders from the Election Commission.
Therefore, the Supreme Court should give orders for removal of the governor and start contempt of court proceedings against the Governor, the petition added.
Mushtaq Ghani said that despite being a high constitutional officer, the governor violated the orders of the Supreme Court and the Constitution. The Supreme Court has the authority to start a high treason case against the Governor, who should be immediately removed from office for violating the Constitution.
The petitioner has requested that the Supreme Court issue orders to the President of the country to set a date for the elections in case the Governor does not comply with the court's orders.