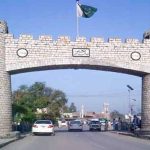 CHICAGO: Yet another incident of racial hatred surfaced this week when a classmate of a female Muslim student in an American school, ripped off her hijab and pulled down her hair in front of other students.
According to details, the unpleasant incident took place in Northdale Middle School in Coon Rapids, Minnesota, prompting the area's school district to launch an investigation into the incident.
The family of the victim girl told the Council on American-Islamic Relations (CAIR) that a female classmate of the Muslim student came up behind her and ripped off her hijab, before throwing it on the ground. She then pulled the Muslim girl's hair down in front of other students in the school.
CAIR's Minnesota expressed concern, in a statement, over the alleged delayed response by the school district to the incident.
"School officials must take immediate actions to ensure that all students, regardless of their faith or ethnicity, are provided a safe learning environment," CAIR-MN executive director Jaylani Hussein said in a statement.
Numerous cases of racial crime and hatred against women covering their heads with hijab have emerged after Donald Trump's recent victory in the US Presidential elections 2016.
On Thursday in East London, a British-Pakistani pizza shop owner was subjected to an acid attack by white supremacists.