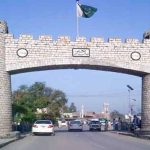 ISLAMABAD: Former prime minister Nawaz Sharif on Monday said that his hands are clean as he has done notthing wrong during his political career adding that he is not afraid of whatever the court decision might be.
While addressing his party workers in Islamabad ahead of the accountability court's verdict in Flagship and Al-Azizia references, Nawaz Sharif said he is not afraid. "Never done anything wrong for which I should feel embarrassed," Nawaz Sharif said
He said he has always served the country and masses with honesty. "There is nothing in the case, my hands are clean," he added.
The former premier said the incumbent government has sabotaged the journey of public development and Pakistan has been derailed once again.
Earlier on Sunday, Nawaz Sharif arrived from Lahore to Islamabad and first met his younger brother and Leader of the Opposition Shahbaz Sharif at Ministers' Enclave. Shahbaz has also been in the custody of the National Accountability Bureau (NAB) in connection with investigations in Ashiyana housing scandal since October 5.
Judge Mohammad Arshad Malik is expected to deliver the judgement in both the references today, whereas, security around the Judicial Complex in Islamabad has been tightened.
Hours before the verdict was scheduled to be announced, Nawaz's daughter Maryam broke her silence on Twitter after five months with a post about her parents.
"The last time I saw HER was in the coffin. The last time I saw HIM smile was with HER. May Allah have mercy on both of you. Ameen," she said in a tweet which was accompanied by photos of Nawaz and his late wife Kulsoom.
The Accountability Court judge Muhammad Arshad Malik had reserved the judgment after completion of trial in the Flagship Investment and Al-Azizia cases against 68-year-old Sharif last week.
Sharif will be present in the accountability court to hear the judgment in the corruption cases commonly known as Al Azizia Steel Mills and Flagship Investment references, initiated by the country's corruption watchdog National Accountability Bureau (NAB) in September 2017 on the top court s directives.
The PML-N members of the National Assembly and workers have been instructed to move to the court in Islamabad.
Besides, PMLN's Tariq Fazal Chaudhary and Anjum Aqeel are given responsibilities of coordinating with local leaders and municipal representatives for motorcade and expression of unity amongst their leaders.