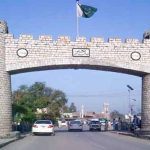 KARACHI: PTI leader Imran Ismail Thursday tendered an apology to his party and workers after his nominee Amjadullah Khan deflected to MQM on the eve of by-elections in NA-245, Karachi.
"I take responsibility for awarding of ticket to Amjadullah. I apologize to my party and workers for this mistake," Ismail told a press conference in Karachi.
Ismail regretted that he had strongly recommended Amjadullah's nomination for the by-election considering his educational background.
He said that PTI was already regretting its decision to field Amjadullah for the by-election.
"We were thinking about registering a kidnapping case after Amjadullah went missing for hours," he said, adding that he came to know about his whereabouts through a text message of MQM MNA Ali Raza Abidi.
The PTI leader also called for the Election Commission of Pakistan (ECP) to declare the by-election null and void.
"We demand that ECP take notice of the issue and order fresh elections. We will not accept this rotten and fraud elections," he said.
He said that Amjadullah was demoralized after MQM's attack on PTI camp in Karachi.