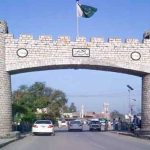 ISLAMABAD: The National Assembly Tuesday passed a resolution urging the government to take effective steps to strengthen Pakistan-Afghanistan border security.
The resolution was tabled by Pakistan Tehreek-e-Insaf (PTI) lawmaker Murad Saeed in the National Assembly.
Speaking on the resolution, the members were of the opinion that strengthening of Pakistan-Afghanistan border security was imperative to stop terrorist attacks, illegal border crossings and illegal trade.
Earlier, the National Assembly was informed that the government under the purview of Ministry of Interior was taking a number of steps to strengthen border security.
Parliamentary Secretary for Interior Maryam Aurangzeb told the House that permit system for border crossing was being integrated with the NADRA database.
She pointed out that a summary has been sent to the President for approval under which Federal Investigation Agency (FIA) rules will be applicable on border movement.
She said blockage of CNICs issued to foreigners is also a step towards border security.