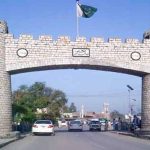 ISLAMABAD: The National Assembly on Tuesday passed a resolution moved by Khalida Mansoor urging the government to take steps for early construction of Diamer Bhasha dam.
In the second resolution moved by Lal Chand Malhi, the house asked the government to take immediate steps to stop forced conversions and marriages of women belonging to minorities.
In a separate resolution, the House asked the government to rename Swat Airport as Major General Sanaullah Khan Niazi Shaheed airport in view of his efforts and sacrifices for the peace of Swat.
The National Assembly was informed today that the federal government is working in cooperation with the provincial governments to check the menace of spurious and substandard medicines.
This was stated by Parliamentary Secretary for National Health Services Dr Darshan while responding to a call attention notice in the house.
He said during 2015-16, fine of 70 million rupees was imposed on the companies involved in sale of substandard drugs.
The National Commission on the Status of Women (Amendment) bill 2016 was presented before the house.
The chair referred the bill to the standing committee concerned for further discussion.
Responding to a point of order of Ghulam Ahmed Bilour, Minister for Kashmir Affairs and Gilgit Baltistan Barjees Tahir said that China-Pakistan Economic-Corridor is not any province specific but is for the whole country.
He rejected the impression that the province of Khyber Pakhtunkhwa has been ignored in the mega project. He once again made it clear that CPEC will benefit all the provinces including Gilgit Baltistan.