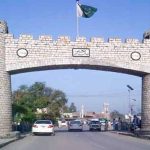 ISLAMABAD: The National Assembly Standing Committee on Foreign Affairs has passed a resolution condemning the occupation of Azerbaijani territories by Armenia.
The resolution was passed during the meeting of the Committee held in Islamabad on Thursday with MNA Awais Ahmad Khan Leghari in the chair.
The resolution also condemned the genocide committed by Armenian armed forces in the Azerbaijani town of Khojaly on February 26, 1992 against civilian population.
The Committee re-affirmed the sovereignty and territorial integrity of the Republic of Azerbaijan within its internationally recognized borders.
The Committee demanded implementation of resolutions of the United Nations Security Council and General Assembly on immediate, complete and unconditional withdrawal of all Armenian forces from all the occupied territories of Azerbaijan and called upon the international community and international organizations to urge Armenia for the implementation of these decisions.
The Committee supported the efforts of the Republic of Azerbaijan to resolve the Armenia-Azerbaijan Nagorno-Karabakh conflict by peaceful means.