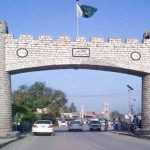 ISLAMABAD: A meeting of the National Assembly Standing Committee on Defence Production was held in Islamabad today with MNA Khawaja Sohail Mansoor in the chair.
The Committee unanimously welcomed the marvelous speech delivered by the Prime Minister in United Nation. The Committee members were of the opinion that it would be an enormous message to the Indian Prime Minister and Indian Nation.
The Committee unanimously appreciated the role of Chief of Army Staff General Raheel Sharif, being an excellent and outstanding Commander of Pakistan Army. The Committee admired the commitment of Pakistan Army and his efforts towards peace process in the Country.
The chair said that Pakistani nation and all political parties are behind the Pakistan Army and Chief of Army Staff against Indian belligerence on line of control without any political differences. The Committee members strongly supported and seconded the statement of the Chairman.
Non-Muslim members of the Committee in their message to India said that Pakistani soil is mother of all non-Muslims and everyone knows how to protect and respect the mother.