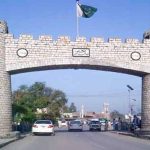 ISLAMABAD: Opposition parties in the National Assembly (NA) on Friday protested and raised slogans in the house in favour of their demand.
"Issue production orders for Mohsin Dawar and Ali Wazir to ensure their presence in the house", the opposition demanded.
The opposition members from the Pakistan People's Party (PPP) and Pakistan Muslim League-Nawaz (PML-N) created ruckus in the house, to force their demand to issue production orders for Mohsin Dawar and Ali Wazir, the two MNAs from North Waziristan, who are under CTD custody over an attack on Army's check post.
The members from the treasury benches tried their best to calm down the temperature of the house, but they failed in doing so.
Later, Deputy Speaker Qasim Suri adjourned the house.
Read more: PTM's Ali Wazir handed over to CTD on physical remand
Yesterday, absconding member of National Assembly Mohsin Dawar was arrested from North Waziristan.
According to Inter-Services Public Relations (ISPR), five army soldiers were wounded in firing opened by a group of PTM while attacking Khar Kamar check post in North Waziristan on May 26.
The attackers came with a motive to release some suspected terrorists, however, three attackers were killed and 10 sustained injuries in the exchange of fire, the military's media wing had said.