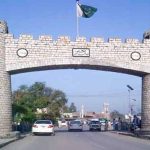 ISLAMABAD: Speaker National Assembly Raja Pervazi Ashraf on Friday accepted resignations of 35 more Pakistan Tehreek-e-Insaf lawmakers.
The latest round of accepted resignations includes big party names including Aamir Kayani, Andleeb Abbas, Khusro Bakhtiyar and Maleeka Bokhari.
قومی اسمبلی اسپیکر راجہ پرویز اشرف نے پی ٹی آئی کے مزید 35 ارکان اسمبلی کے استعفے منظور کر لئے @PTIofficial pic.twitter.com/zk4ANzAC8p

— Khyber News (@KhyberNews247) January 20, 2023
Raja Pervaiz Ashraf earlier on January had accepted resignations of 34 MNAs of the PTI and one resignation of Awami Muslim League Chief Sheikh Rashid following Imran Khan hinted to return to National Assembly.
Here is the complete list
Dr. Haider Ali Khan (NA-2)
Mr. Saleem Rehman (NA-3)
Sahibzada Sibghatullah (NA-5)
Mr. Mehboob Shah (NA-6)
Mr. Muhammad Bashir Khan (NA-7)
Mr. Junaid Akbar (NA-8)
Mr. Sher Akbar Khan (NA-9)
Mr. Ali Khan Jadoon (NA-16)
Engr Usman Khan Tarakai (NA-19)
Mr. Mujahid Ali (NA-20)
Mr. Arbab Amir Ayub (NA-28)
Mr. Sher Ali Arbab (NA-30)
Mr. Shahid Ahmed (NA-34)
Mr. Gul Dad Khan (NA-40)
Mr. Sajid Khan (NA-42)
Mr. Mohammad Iqbal Khan (NA-44)
Mr. Aamer Mehmood Kiani (NA-61)
Syed Faiz ul Hassan (NA-70)
Ch. Shoukat Ali Bhab (NA-87)
Mr. Umar Aslam Khan (NA-93)
Mr. Amjad Ali Khan (NA-96)
Mr. Khurram Shahzad (NA-107)
Mr. Faizullah (NA-109)
Malik Karamat Ali Khokhar (NA-135)
Syed Fakhar Imam (NA-150)
Mr. Zahoor Hussain Qureshi (NA-152)
Mr. Ibraheem Khan (NA-158)
Mr. Tahir Iqbal (NA-164)
Mr. Aurangzeb Khan Khichi (NA-165)
Makhdoom Khusro Bakhtiar (NA-177)
Mr. Abdul Majeed Khan (NA-187)
Ms. Andaleeb Abbas (Reserved seat-Women)
Ms. Asma Qadeer (Reserved seat-Women)
Ms. Maleeka Ali Bokhari (Reserved seat-Women)
Ms. Munawara Bibi Baloch (Reserved seat-Women)