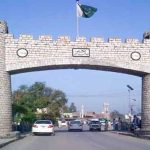 SWABI: The National Assembly (NA) Speaker Asad Qaiser along with his daughter and son have tested positive for the novel coronavirus.
In his Twitter message, Asad Qaiser said that he has quarantined himself inside his home. He appealed the nationals to adopt precautionary measures against coronavirus and pray for his health. "I have put myself in self-quarantine," Qaiser said on Twitter, confirming he had the virus.
"I request the entire nation to take precautions and to pray for my recovery," he said.