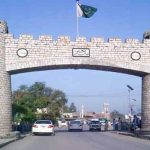 ISLAMABAD: The National Assembly Standing Committee on States and Frontier Regions (SAFRON) on Thursday rejected the Federally Administered Tribal Areas (FATA) Riwaj Act for tribal areas and termed it as another form of the Frontier Crimes Regulation (FCR) law.
The NA Standing Committee on SAFRON met under the chair of its chairman Maulana Jamal Uddin and was attended by State Minister for SAFRON Ghalib Khan Wazir, officials of FATA Development Authority and officers from FATA. The committee rejected the much-opposed Riwaj Act and returned it back to the Law Ministry. The committee members argued that the proposed Riwaj Act is another form of draconian FCR law for tribal areas.
The committee also discussed the procedure for recruitment of Levies personnel during the FATA reforms process. The committee chairman directed the law ministry prepare draft of recruitment procedure for Levies personnel and present before the committee within 15 days.