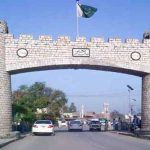 LAHORE: National Accountability Bureau (NAB) on Monday has told the court that former Director General (DG) of Lahore Development Authority (LDA) Ahad Cheema wrongly used his authorities in Ashiana Housing scam.
Ahad Cheema and Chief Executive of Bismillah Engineering Services Shahid Shafiq were presented before the court during which, NAB officers started his arguments.
He said that Cheema did fraud in the scheme by misusing his powers, adding that Shahid Shafiq got the contract by submitting fake documents.
NAB had also approved fresh investigation into 'assets beyond means' of Ahad Cheema for which a team was also formed to probe Ahad Cheema's assets.
Earlier, Shahid Shafiq was handed over to NAB on a physical remand till March 5 in Ashiana Housing Scheme scandal.
Shahid Shafiq was arrested on the identification of Ahad Cheema after it was discovered that Rs.14bn contract had been granted to Bismillah Services despite the company being a C-4 category subsidiary company of Paragon City. NAB had also obtained details regarding mobile phone calls and emails of Ahad Cheema while the bureau had also sought expert's assistance to recover the data.
Cheema was arrested by National Accountability Bureau (NAB) from the MM Alam Road in Lahore over corruption allegations regarding taking 32 kanal land as a bribe. He had not appeared before the NAB despite several summon.
Afterwards, opposition leaders had staged a symbolic walkout in the Punjab Assembly, asking why Cheema was given promotion.