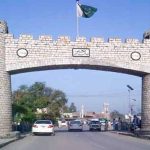 By Wajid Hoti
PESHAWAR: A writ petition was filed against Prime Minister Imran Khan, President Arif Alvi and eight others for issuing presidential ordinance on December 28, 2019 commonly known as NAB amendment ordinance 2019.
The NAB ordinance was challenged because of misuse of authority was excluded from definition of NAB ordinance 1999, by adding the word materially benefitted. Furthermore illegal scheme and destructive projects designing said the petitioner shah Faysil Ilyas.
The petitioner claimed that authorities were also excluded from the column of Accused ,further more given opinion reports etc by the Authority through which if loss occur to public Exchequer cannot be an offence. Due and so called protection is given to Politicians and bureaucrats in the garb of Amendments.
Due to Amendments many of judgments and writ petitions becomes in-fractious, likewise inquiry & investigation stopped and pending trials vitiates ,the ordinance is against the basic law of corruption & corrupt practices quoted the petitioner in writ
Thus the same is challenge by 200 petitioners in Peshawar High Court. 90% of NAB cases will automatically come to an end & loss to public.
Exchequer will be over burdened and will face huge loss .Money Launders are tried to facilitate their selves through amendments to get maximum benefits ,further more the Amendments are introduce in violation of 24 A of General clauses Act,
Article 8 of the constitution, AMLA Act, and almost all prevailing laws will be violated the council shah Faysil Ilyas claimed in writ petition.
The president of Pakistan has misused his authority which is the violation of constitution the council insisted in writ.
it is pertinent that in writ petition prime minster of Pakistan included eight others are made parties for to suspend amendments in nab ordinance issued by president of Pakistan . While provincial government is also a specific party, all parties may issued notices the council has demanded..