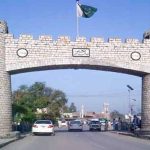 MULTAN: Foreign Minister Shah Mahmood Qureshi clarified on Sunday that the National Accountability (Amendment) Ordinance, 2019 – promulgated by the Pakistan Tehreek-e-Insaf (PTI) government through a presidential ordinance on Friday bringing momentous alterations to the accountability law known as the National Accountability Ordinance, 1999 – was not aimed at providing an National Reconciliation Ordinance (NRO), relief or protection to anybody.
In his talk to the media in Multan, the minister pointed out that the revision of the anti-graft agency's jurisdiction was demanded by the Pakistan Peoples Party (PPP) and the Pakistan Muslim League-Nawaz (PML-N).
"The amendment has not been made to protect corruption […] on one hand, it was being said that investors were not investing [in the country ," he said.
Qureshi lamented over opposition's claim of dysfunctional economic (policies of the government), and putting resistance to economic affairs at the same time.
"Government's measures are criticised for economic stability [of the state]," he added, while regretting that criticism without thorough study of a subject has become a norm in our society.
The foreign minister expressed his gratitude to Sri Lankan cricket team that after the recent concluded tour of Pakistan gave an impression of conducive atmosphere in the country for international cricket teams.
"Sri Lankan players appreciated security measures [taken by Pakistan]," he said.
He urged the provincial government of Sindh to instead of giving "statements" join the center and put an effort to resolve issues. The minister said the federal government would completely cooperate with the Sindh government.
About prevailing gas crisis in the country this winter, Mr Qureshi asserted that Karachi was the industrial hub, and gas shortage in the metropolis contributed to reduced industrial production. "The federal government will not aim for shutting down the production," he said.