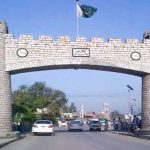 Karachi: The co-accused of former petroleum minister Dr. Asim Hussain, Abdul Hameed was arrested after the Sindh High Court (SHC) rejected his pre-arrest bail plea in Rs. 462 billion corruption reference.
In its decision, the SHC extended bails of other co-accused named as Ejaz Chaudhry and Muhammad Safdar and accepted pre-arrest bail plea of Athar Hussain.
During hearing of the corruption, Abdul Hameed appeared before the court, which rejected his plea for bail before arrest and was subsequently arrested by National Accountability Bureau (NAB).
Abdul Hameed is accused of laundering money through Dr Asim's bank accounts and corruption in the Ministry of Petroleum.