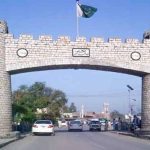 PESHAWAR: National Accountability Bureau (NAB), Khyber Pakhtunkhwa, has arrested for secretary Pakistan Tobacco Board and director Trade Development Authority Nauman Bashir for corruption of millions of rupees and illegal recruitments.
According to NAB, the Nauman Bashir has also misused his authority for personal interests and appointed many people illegally in the tobacco board.
Meanwhile, Peshawar high court stopped Ehtesab Commission for starting inquiry against MD Bank of Khyber, saying that the commission has no authority to start investigation against managing director.