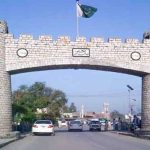 LAHORE: The flight carrying former premier Nawaz Sharif and Maryam Nawaz landed at Lahore's Allama Iqbal International Airport around 8:45pm PST on Friday night, and the two were taken into custody by National Accountability Bureau (NAB) officials around 9:25pm.
Dozens of security officials entered the plane after it landed and asked other passengers to leave. The duo's passports were seized by a three-member Federal Investigation Agency (FIA) team.
Nawaz and Maryam then boarded a small private plane bound for Islamabad International Airport (IIA). The flight has left Lahore. Upon landing at IIA, Nawaz and Maryam will either be flown to Adiala Jail or driven to Attock Jail.
Nawaz and Maryam were convicted by an accountability court in the Avenfield corruption reference last Friday and handed jail sentences of 10 years and seven years respectively. The former was found guilty of owning assets beyond known income, while his daughter was convicted for aiding and abetting her father in covering up a "conspiracy".
After the verdict was announced, Nawaz and Maryam had said they would return to Pakistan and appeal against the decision. The National Accountability Bureau (NAB) and Punjab governments had made arrangements to take the father-daughter duo into custody upon arrival.
Their flight home took off from Abu Dhabi around 5pm local time and landed in Pakistan at around 8:45pm PST.