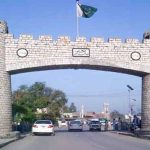 ISLAMABAD: The ousted prime minister Nawaz Sharif has said that National Accountability Bureau (NAB) is a black law constituted by a dictator to target only politicians.
In his informal talk with media outside accountability court here in Islamabad, Nawaz Sharif said that a law has been constituted in 2002 to blackmail politicians.
He added that laws constituted in martial laws should be annulled saying that these laws would be misused before the next general elections.
Nawaz Sharif said that it is the prime minister who put names on Exit Control List (ECL) on the recommendations of NAB and asked as to "who is doing all these things".