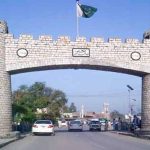 ISLAMABAD: Chairman NAB Justice retired Javed Iqbal says a special desk of NAB will be established to resolve grievances of business community.
Addressing businessmen in Islamabad on Tuesday, he said NAB is committed to safeguard the rights of traders.
He said every step of the bureau will be for the betterment of all segments of the society.
The chairman of anti-graft authority said that he or his officers have never harassed or unduly prosecuted any trader, builder or businessmen and will never do so in the future.
"We have only questioned some (constructors of) private housing societies who robbed poor people of their hard-earned money," said Javed Iqbal.
Javed Iqbal was of the view that his department not only brought such builders to book but also recovered money "looted from people belonging to poor and underprivileged section of the society".
"Dreaming of a better future, they (the poor) invested their money in these societies, what is wrong in giving them their money back?" asked the NAB chairman.
The NAB chairman revealed that, during the process, some builders said that they will "buy" him but he clearly told them that nothing can save them from the long arm of law until and unless he is in charge.
"I asked, am I a plaza that you can buy?," said Javed Iqbal.
Assuring all traders and businessmen of impartiality and transparency, the NAB chief said that, in the past, a group of traders were harassed to please another group but that time has passed and now none can escape the accountability process.
Announcing establishment of the new traders' desk in NAB, Javed Iqbal assured the businessmen community that NAB is not working against them but for their own benefit and interest.