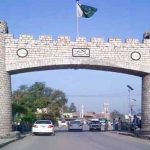 ISLAMABAD: An accountability court Islamabad adjourned the hearing of the reference regarding delay in Nandipur Power Project till April 09.
The case was adjourned due to absence of Accountability Judge Arshad Malik, who has been on leave to perform Umra in Saudi Arabia.
Former prime minister Raja Pervaiz Ashraf, former law minister Babar Awan, Shahid Rafi and other accused were summoned in the case hearing.
The court had to record statement of a prosecution witness, Muhammad Naeem, an official of the Ministry of Power today.
In a previous hearing, the court had indicted the accused who pleaded not guilty and opted to contest charges. The judge then directed the National Accountability Bureau (NAB) to present witnesses to record their testimonies.
NAB has named former PM Raja Pervaiz Ashraf, Babar Awan, former law secretary Riaz Kiyani, Masood Chishti, ex-consultant Shumaila Mahmood, former joint secretary Riaz Mahmood and ex-secretary Shahid Rafi as accused persons in the case.
According to NAB officials, delays in the completion of Nandipur Power Project caused the national exchequer a loss of Rs27 billion.
The Supreme Court in August last year reopened the Nandipur power project case, issuing notices to the federal authorities, Water and Power Development Authority (WAPDA), and Pakistan Electric Power Company (PEPCO) to come up with their respective comments.
Then chief justice of Pakistan Mian Saqib Nisar, who headed a three-judge bench of the apex court, reopened the case on a petition filed by PML-N leader and former water and power miniter Khawaja Asif.