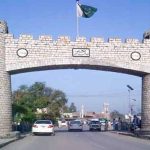 KARACHI: An accountability court in Karachi on Tuesday sent MQM leader and former KPT chairperson Javed Hanif to jail on 14 days judicial remand.
Javed Hanif was earlier in the day arrested by NAB authorities.
The MQM leader, who is contesting elections from PS-95, has been accused of hiring over 900 people illegally in KPT in connivance with former federal minister for ports and shipping Babar Ghauri.
MQM convener Dr Khalid Maqbool Siddiqui condemned the NAB's decision to arrest Javed just weeks before the elections. He did not sell KPT jobs to anyone, said Siddiqui.
This is an attempt to stop MQM from contesting elections, said MQM leader Faisal Sabzwari. "We would raise our reservations at all forums," he added.